Vi Woods is a consultant in autism, a grandmother, and at age 69,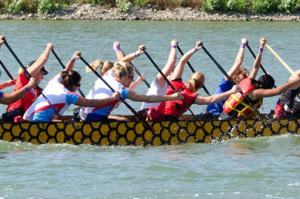 a member of a world champion Dragon Boat racing team. Anyone needing inspiration to achieve a difficult goal will certainly find her to be a valuable role model. She provides ample proof that with determination, perseverance and a vision for something significant, great things are possible.
Entered in the 60 plus women's category, her team competed in this summer's Club Crew World Championships in Italy. The competition was organized by the International Dragon Boat Federation.
Standing at 5 feet, 1 inch, Vi needed to train with exceptional diligence to make the team. It is her grit and strong will that attracted my interest.
Approximately 40 women, including some from Penticton, Victoria and other centres tried out for the championship team that made the trip to Italy. "Besides the Drummer who is at the front of the boat and the Steerer at the back, there are only 20 available positions," Vi told me in a telephone interview from her daughter's home in Winnipeg. "I wasn't at all certain I'd make the team. The women trying out for it were highly skilled, very strong and fiercely competitive."
" My personal training included 4 strenuous sessions in the gym each week, one with a trainer. I also paddled 2 times each week with my regular team, the Grand Dragons, and once per week with the competition team. There were also two day camps, spaced several months apart. I needed to be totally disciplined in honing my paddling skills and in my physical conditioning."
To be named to the team, Vi needed to successfully complete a series of rigorous tests. These included a solo paddle on an outrigger boat. There were also strength tests such as an 80 pound lat pull, weight lifting and pushups (she can do 20). Much like an Olympic athlete, she had trained for some 8 years to achieve the skill and fitness levels required to win a greatly coveted place in international dragon boat competition.
"When we are training for a competition," she said "it becomes consuming. It's what I think about and talk about."
Dragon Boat racing dates back some 2500 years and is still part of religious ceremonies and folk customs, especially in areas of East Asia where there are ethnic Chinese populations. One purpose is to venerate the Chinese dragon water deity and to encourage rainfall.
"We have to work closely as a team," Vi said. "Our strokes must be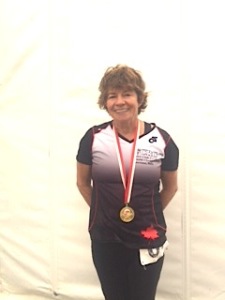 synchronized. The Drummer plays an important role in achieving this. We are all friends and help each other."
She concluded by saying, "it's very exciting going into a competition. These boats go really fast. We have to be totally fit and focused. All our strength goes into the race."
Apparently their boat did go really fast. Her team wasn't defeated in any of the races. Vi and her team mates each came away with 3 gold medals. Her reason for being in Winnipeg at this time is to spend time with Olin, her newly born grandson. Even Dragon Boat racing must step aside for this.