This September my wife Linda and I are celebrating the second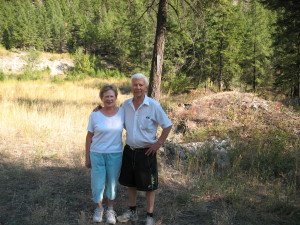 anniversary of our return to Hedley in the scenic Similkameen Valley. We are also celebrating our decision to leave behind the congestion and pollution of the Fraser Valley. One change we are not celebrating is the separation from family and friends. Although including a stop for coffee and a short walk at Manning Park, it's only 4 hours to the Fraser Valley where most of our family lives, we are aware that the mountains present a psychological barrier.
Our initial coming to Hedley in 1980 was entirely work related. The first time I brought Linda here she said, "I don't understand why anyone would want to live in this town." A lot of people do ask why anyone would want to live where there is no Superstore, Walmart, bank, pharmacy, doctor, or Tim Horton's. I was not enamoured by the community but it was the wilderness training centre for my employer, the One Way Adventure Foundation. This meant my staff and I needed to bring Young Offenders in our programs here for courses in canoeing, rappelling, rock climbing and other activities.
When the organization closed down its Surrey headquarters and moved to Hedley, Linda and I agreed we should stay with the "Foundation" and make the move. Our contact with family became intermittent.
In time we returned to Abbotsford and lived there 23 years. This made it possible for our son to play high school football. It also made possible a more active social life for our teenage daughter.
When we moved back to Hedley two years ago we had one significant concern. We were reminded of the occasions in the past when people said to us, "we drove through Hedley and we thought of you." We didn't understand why these people didn't take the time to come to our home. Our concern was that ties with family and friends might be loosened.
We understand more fully now that friendships are precious and also fragile. In
" Pathways To Success," Dr. Mensa Otabil says "90% of the people in your life today will not be there in 10 years." We know that successful businesses like Telus and Apple devise extensive strategies to retain their customers. They do not assume people will remain loyal. Some companies have a "Loyalty Department".
To us, friendships and family relationships are at least as important as customers are to Telus and Apple. For this reason we are making more of an effort to ensure many of the 90% will still be in our lives in10 years.
Past experience made us aware we couldn't wait for people to initiate contact. In the realm of relationships, "out of sight, out of mind" applies. Knowing this, we wrote a letter about our move and initial experiences here. The letter went to about 30 people, mostly by e-mail. Since then our list for the letter has expanded to over 100 and continues to grow. Surprisingly, people are now writing us about their experiences, challenging issues, victories, relationships, etc. In some cases we are sending the letter to people with whom we have had no contact in years. This has rekindled several relationships that had become dormant.
Sometimes when we meet one of the recipients they say, "I haven't written you but I like hearing from you. Keep the letters coming." People are sharing the letter with their friends. Recently a high school classmate sent an e-mail saying, "I've been receiving your letter from a mutual friend. Can you put me on your list?" We are also in contact with individuals we have not yet met but consider to be friends because someone sent them the letter.
Our approach to retaining friendships likely doesn't suit everyone. Some people employ other methods. Many do nothing though, and that is why 90% of their relationships are in danger of lapsing in 10 years. Great friendships don't come easily. Unlike customers, they cannot be attracted by advertising or promotions. Linda and I have become
passionate about holding onto the relationships we have. When we send people our letter, we are saying, "We value you. We'd like to stay in touch".