In 1942 Carrie's mother married a member of the Upper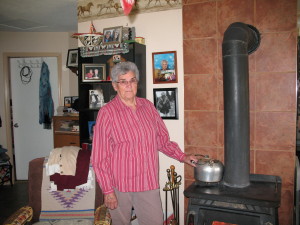 Similkameen Band and they moved to Hedley. "The town looked new to me then," she says. "People dressed up.
I saw ladies wearing hats and white gloves." She recalls they could flag down the Great Northern train and catch a ride to Oroville.
When she was 12, her stepfather took her to the home of Charlie Allison, at that time band chief. Here she met Edward (Slim) Allison, her future husband. Slim was told by the Indian Agent, "you should be on the band council. You can read and write." In time, Slim became band chief. When he was in this role, she worried about him. "You can't please everybody," she says, again experiencing the concern she had for her husband at that time.
"Slim always gave me the pay from his work at the sawmill in Princeton." I sense her pride as she remembers how responsible he was about finances. "He told me to pay the bills and if there was anything left, I could give him some."
At age 40, Carrie attended 3 semesters of academic upgrading. Someone at the school suggested she enter a hair styling course. She accepted this advice and registered for a course in Vernon. For the last two weeks of the course she made the long trip from Hedley to Vernon every day. Having had my hair cut by her many years ago, I still recall her cheery attitude and words as she clipped.
Now at an age when no one would be critical if she retired to a rocking chair, Carrie gives little indication she is ready to slow her pace. In addition to cleaning the little chapel, once a year she hires boys to harvest the weeds from the adjacent cemetery. Records indicate the chapel was likely built in 1901 and she feels a responsibility to those who made it a reality at a time when remoteness of the area made this difficult. "I think of the old people who worked so hard to bring the lumber and windows and other supplies here to build it," she says. "We should keep it up in their honour." When there are 5 Sundays in a month, the priest comes and she attends the service. In winter she often invites the people to meet in her home, due to lack of adequate heat in the chapel.
"It is important to preserve the Indian culture and ways," Carrie says. "I'm learning a prayer in the band language. I don't want the language to be lost. Not many can speak it anymore."
On the first Wednesday of each month she attends an elders lunch in Keremeos. She still sews quilts. "I tried making moccasins, but I'm not good at it."
Carrie is a committed fan of early Country and Western music. "When I was in Nashville," she tells me, "I saw Johnny Cash, Hank Snow, Earnest Tubb and Kitty Wells." When I ask if she likes Jerry Lee Lewis, famous for his Great Balls of Fire hit, her response is enthusiastic. "Oh yes. I like him."
Carrie has experience, wisdom and an enthusiasm for life that many with a Masters Degree would envy.