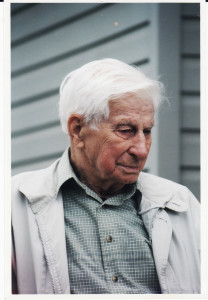 As my maturity increased, I realized that underlying Dad's physical attributes and strong will, there was a deep compassion for people in need.  One evening he picked up his large, very heavy tool box.  I asked him what he was going to do.
"John can't figure out how to replace the clutch on his car," he said.  "I've done that before. We'll get the job done in no time."  Dad hardly knew John, but after that they became close friends.
I came to understand that Dad always put relationships ahead of personal gain.  When he was asked to bid on a large job, he invited his friend Henry to join him.  The contractors told Dad they wanted him to do the work, but Henry's equipment was too old and he was not welcome. Dad knew Henry would be discouraged if he was left out, so he turned down what would have been his biggest contract ever.
Dad and I worked closely in the bulldozing and trucking business until I was 24.  Although I had enormous respect for him, I did not have the maturity to listen to his words about how to live.  Understanding this, he didn't attempt to persuade me. In time, it was his example of complete integrity, as much as his courage and skills, that persuaded me to adopt much of his value system. When he lost a valiant battle against cancer at age 95, I said to a friend, "more than anyone else, Dad's example impacted my life and shaped it. If I ever become half the man he was, I will consider my life to have been a success." Without realizing it at the time, I had begun to walk on the path Dad walked on.