In 1973 Len and Jean Roberts, founders of the One Way Adventure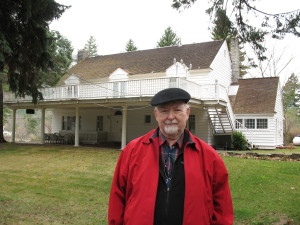 Foundation, began with a simple booth at the Cloverdale Rodeo.  They offered camping, cycling and canoeing expeditions. A probation officer liked their vision and on behalf of her Surrey office, negotiated a contract with them to operate an extended program for youths on probation.
Soon probation officers were dropping their most recalcitrant adolescent clients off at the Roberts home.  Sometimes it was with the explanation they would be camping, canoeing, or joining a football team. Len had to inform them their PO had actually placed them in a longterm program of rehabilitation. With these often rowdy youths assembling in the Roberts back yard each morning, anxious neighbours spent a lot of time peeking through slits in closed curtains. They were understandably concerned about their personal and property safety.
Desperately needing a larger, more appropriate place as a base, the Roberts purchased  3 acres with a home and small barn in Surrey.  As their reputation for effectiveness increased, probation officers and social workers clamored for more spaces to send youths  out of control in their home, school and community.
Len quickly realized they would have to get some of these hard to manage youths into a more tranquil and secure setting.  The Gold House and Colonial Inn properties on the outskirts of Hedley were derelict and available and he was able to acquire them .
Just prior to the purchase, the inn was seriously vandalized.  At about this time, one of the young vandals was placed in the Foundation's Surrey program for other unlawful activities.  Not realizing the Foundation had just purchased the property, and wanting to establish a tough guy image, he foolishly boasted to Len about his part in the vandalism. Len immediately sent him to Hedley to help staff with the clean up and repairs.  The building was named the Camp Colonial Lodge
Eventually 4 programs operated out of the Hedley setting.  The youths were assigned to work projects such as fence mending, building trails, cutting grass etc.  In time there were food prep, mechanics, retail and riding courses.  Rigorous back packing and canoeing expeditions, skiing, rock climbing and rappelling were also part of the mix. Most students attended the Foundation school.  Extremely difficult cases were sometimes sent to Upper Camp, part way up the Tram Line.
While Jean ran the office, Len built the organization.  Needing space for programs and storage, he managed over time to buy several buildings, which were for the most part derelict and empty.  Although not charismatic in the usual sense, he was able to explain his vision, purpose and methods in a manner that appealed to individuals eager to devote their lives to a significant purpose.  The work was often arduous and the pay wasn't great, but workers continued to come and stay. Several youths, after completing their program, were accepted into a one year training course for young workers starting with the organization. Upon completion the Foundation brought them on as staff.