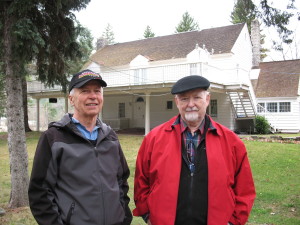 The Hedley operation became both the wilderness and administrative centre of the One Way Adventure Foundation.  Liking its highly effective approach combining work skills development, academics and wilderness expeditions, the government contracted for day programs in Penticton, Kelowna and Vernon.
Possibly it was the organization's success that aroused the ire of a small cadre of elderly men in Hedley.  For several years they plotted against the organization, hoping in some way to discredit it. In 1986 they complained to the two major Vancouver dailies that the OWAF was a cult.  Always searching for the dramatic, one reporter managed to make the allegation a front page story, based entirely on unproven speculation.
 A government inspection team, consisting of men in dark suits, quickly descended on Hedley.  They spent a week meticulously scrutinizing financial records and interviewing youths, staff and residents.  In the end they determined there was no reason for concern and completely exonerated the Foundation. 
In the early 1990's, a new  government switched its youth programs from a regional to a community model.  Len chose not to go in this direction and reluctantly folded the organization.
Now, some 20 years later, newcomers to Hedley might be inclined to ask if the Foundation made any lasting contribution to the community.  In response to this question, a  member of the Hedley Museum Society said, "if it wasn't for the Foundation, some of our larger structures would not have survived.  They did major upgrades on several empty, neglected buildings."  
The presence of young staff, usually carrying 2-way radios, helped seniors feel more secure. Also, at that time there was no garbage collection and one program provided this service for staff, seniors and the disabled.   Finding someone to replace a door or toilet, or fix a leaky tap was often difficult..  The OWAF developed a service to fill this need.  Using government grants, they were able to provide training and employment for 10-12 local residents.  
Certainly, the most important contribution lies in helping hundreds of young offenders acquire useful skills and develop a more positive self-concept. They returned to their community much more aware and confident of their potential.
Although the Foundation is gone, it still lives on in the memories of people who were here at that time.