In the game of life, Thomas (T.C.) Knowles of Hedley was not a bystander. After the death of his father, he emigrated to Canada in 1910 with his sister and brother-in-law from Glasgow, Scotland. Three years later, at the age of 20, he accompanied them to Hedley and worked in the Power House at the Daly Reduction Plant (gold mining company).
In 1915 a recruiter for the Canadian Army deeply stirred his patriotism. He and a number of young Hedley men eagerly enlisted. T.C. was assigned to the 54th Battalion.
According to Hedley researchers, Andy English and Jennifer Douglass, citizens of the town enthusiastically raised the equivalent of $75,000 in today's currency to support the men in their war effort. Most of the funds were designated for machine guns and the local recruits became known as "the Hedley Machine Gun Boys."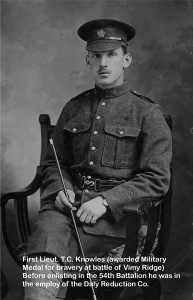 T.C. was quickly promoted to Corporal and then Sergeant. His war diary, kept in a small notebook he carried throughout the war, reveals that he participated in major battles of WWI. On August 26, 1916 he wrote, "went into action at St. Eloi, Ypres." Then on Oct. 11, "went into action at Corcelette (Somme)." March 1, 1917, he wrote, "regiment on large raid at Vimy Ridge. Very unsuccessful." His daughter Anne Lloyd of Kamloops still has his diary and flying log.
T.C. proved to be a courageous soldier. On May 11, 1917 the London Gazette reported "his majesty the king has been graciously pleased to approve the award of the Military Medal for bravery in the field to Sergeant TC Knowles." In 1917 he was seconded to the RAF where he trained as a pilot and patrolled the English Channel.
Demobilized on June 13, 1920, he was quite intact physically, emotionally and mentally. For a time he resumed his role as a steam engineer at the gold mining operation in Hedley. He married Thomasina (Ina) Boyd on August 24, 1922 and they raised 5 children in their home at 957 Ellis Ave. in Hedley.
In 1937 he was appointed to the position of Postmaster of Hedley. Here his zest for life and unique sense of humour at times surprised people. One favourite trick was to wear eyeglasses with false eyeballs that popped out and then retracted. Today's postal regulations might not look kindly on such interactions with patrons.
In "Mines of the Eagle Country", Doug Cox provides an insight into the nature and character of T.C.. He quotes Mary Smith, who lived with her husband high on the mountain at the Nickel Plate townsite. She said, "there was a wonderful man in Hedley, Tommy Knowles, the Post Master. We would send our cheques down to be cashed by him and ask him to pay our bill at the store. If there was something in the hardware, he would pay these bills and send the remaining money back. It would come up the skip."
His son-in-law, Gordon Lloyd says, "when we were fishing at a pond in the river, if a fish came to his lure, he'd yank out the lure so the fish would come to mine." According to Gordon, T.C. told people his success in fishing came from using Scottish worms soaked in whiskey and kept in the fridge overnight.
T.C. understood well that a community will be vibrant only if citizens are active in its organizations. He served as secretary-treasurer of the hospital society, chairman of the Cenotaph committee, and trustee and devoted member of the Grace United Church. He was also an active promoter and developer of the Hedley Golf Course. His wife "Ina" shared his community mindedness. According to daughters Beverly and Anne,  she played the organ at church for 60 years.
T.C. had a wonderful ability to accept and interact with people of other cultures and races. According to Gordon Lloyd, when he passed away in 1959, there were as many people from the local reserve at the funeral as from Hedley. He and Thomasina, and other members of the family are buried in the Hedley Cemetery. To this day, those who remember T.C. and Thomasina Knowles, or know of them, still speak of them with a palpable sense of awe.