I was vaguely aware that Thomas Cameron Knowles (T.C.) had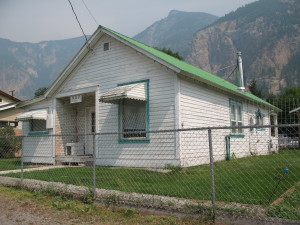 played a key role in Hedley's history. He was the Postmaster for many years and his wife, Thomasina, played the organ at the United Church for 60 years. Several members of the Knowles family are interred in the Hedley Cemetery. Those still living have re-located to other communities. Having become deeply intrigued by the fascinating history of this little former gold mining community and the people who made it their home, I hoped I might one day have a conversation with a member of the family, even if only by telephone.
Recently Linda and I attended a presentation about the "Hedley Boys", young men who enlisted and saw combat in WW1. Andy English and Jennifer Douglass, two local researchers collaborated in meticulously gathering information about the lives and military contributions of these Hedley men. We learned that T.C. Knowles was one of the young men who served our country, participating in several major, well known campaigns.
We were sitting in the second row, directly behind a man and two women. All three were strangers to us. Leaning forward in their chairs, they were obviously totally focused and absorbed, not wanting to miss a single word spoken by Andy and Jennifer. They seemed utterly mesmerized by what was being said.
After the presentation we understood why they had been in the front row and had listened so carefully. The two women were Beverley and Anne, daughters of T.C. Knowles. The man was Gordon Lloyd, husband of Anne. They live in Kamloops and had driven here in the summer heat for this presentation. Much of the information on T.C. Knowles had come from Gordon.
After the 2 hour presentation we walked to the Museum with them. As we walked, Gordon pointed to the Hedley Fire Department. "The Red and White store used to be there until it burned down," he said. "And next to it, where that new house is now, was the butcher shop." Each of them recalled the town as they had known it when they were young. Both Anne and Beverley graduated from the Hedley High School several years prior to its closing in 1951.
We spent an hour with them over lunch at the Museum, and it was like striking Hedley gold. They were quite willing, even eager to share their knowledge and experiences. "We played ball with Jimmy Douglass," Beverley said, referring to James (Jim) Douglass, author of the best seller, "JFK and the Unspeakable". Memories from the past continued to pop up, still fresh and vivid in their minds. They had been at the Hedley cemetery the previous day and Anne named each member of the Knowles family laid to rest there.
Several days after our visit with them, Gordon sent an e-mail in which he mentioned Marlene, as though this was a name familiar to us. I wrote back saying, "I don't know who Marlene is." That evening I received an e-mail from Marlene, telling me she is a member of the French family. The Frenches, like the Knowles, are names of some renown in Hedley's history. And both families understand that it is important to share their early memories so they will not be lost to future generations.
There are rich veins of history in this once bustling gold mining centre. We are fortunate that the Knowles and French families are opening the vaults of their memories so we can all benefit.