Parkas, toques and gloves abounded as approximately 100 Similkameen Valley citizens gathered around the Cenotaph in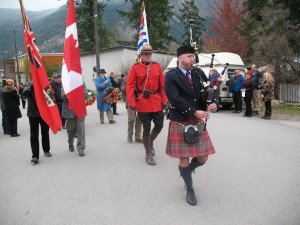 Hedley for the Remembrance Day ceremony. Light flakes of snow were falling as a bag piper led a procession that included Constable Anthony Pankratz, MP Alex Atamanenko and local flag bearers. Pastor Graham Gore prayed for the fallen in conflicts ranging from WWI to Afghanistan. A moving talk by local war historian Andy English captured the full attention of the crowd. In spite of the cold, caps and toques came off during the minute of silence to remember and honour the fallen warriors.
Later, it was a sombre scene as 6 committed citizens of Hedley met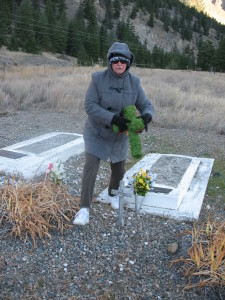 at the cemetery to lay wreaths on the graves of Hedley boys who had given their lives to preserve our freedom. Local Postmaster Ruth Woodin laid wreaths on several graves in the Masonic section. One was placed on the grave of TC Knowles, recipient of the Military Medal for Bravery in the Field in WWI. It was fitting that Woodin placed this wreath since Knowles was an earlier Hedley Postmaster, serving from 1937 until his passing in 1959.
Researchers Jennifer Douglass and Andy English placed a wreath on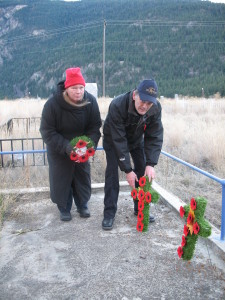 the grave of Margaret Robertson who died in 1929. They believe the two empty graves fenced in with hers were likely intended for two fallen family members. In the fall of 1916 her brother, William H. Henderson, died of wounds from the accidental explosion of a mortar shell while in training school in France. Her son, Robert W. (Bobby) Robertson, died of wounds suffered in a trench raid at Vimy Ridge in spring of 1917.
Two other Hedley residents, Terry Sawiuk and George Koene, also participated in placing a total of 15 wreaths.