If automotive tycoon Henry Ford could see what Leroy Fague of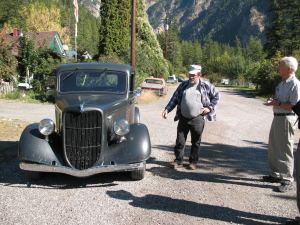 Princeton, B.C. has managed to do, he'd surely be more than a little green with envy. A few days ago I saw this pretty 1936 Ford pickup parked on the street in front of my neighbour's place. I couldn't resist the impulse to get up close. Dwight (better known as Whitey), introduced me to Leroy, the truck's owner. Leroy invited me to sit behind the wheel. What comfort and pleasure! He has certainly improved on Henry Ford's creation.
"Originally it was a Bellingham Airport fire truck," Leroy told me. "A one ton. I built it on a 1953 Ford F1 frame. Built the box myself."
Listening to Leroy talk about the pickup, I quickly realized he is focused, serious and meticulous in re-building vehicles from the past. "I don't do muscle cars," he said. "I build only hot rods. That way I can select parts off any vehicle I choose."
As he talked about the parts he had installed on the pickup, I concluded that in fact this really is a 1936 Ford mostly in name and appearance. "It's got Mustang front and rear suspension," he said. "The engine is a Chev small block 327. It has a turbo 350 GM 10 bolt differential." I'm not mechanical but I understand that in assembling such a variety of parts to create a very special vehicle, he has accomplished something remarkable.
The ride is unique he told me. "It's visceral."
Leroy began this interest by building custom Harley Davidsons. When he switched to cars, the first one was a 1923 Ford. "No fenders. No top," he said.
"I wanted to learn about the science of building a car," he continued. "I learned to do welding, engineering and fabrication."
At one time he had a business in Surrey, doing it for others. "I didn't enjoy that," he told me. "I don't like selling what I build. I rarely make exceptions."
You'd need a hefty stash under your mattress to buy this 1936 Ford pickup. It has been appraised at $36,500. In my case, looking at it admiringly is the limit. Anyway, it's not for sale. Leroy did say he'd give Linda and me a ride in it though, and that's an offer I plan to accept very soon.