After walking about an hour along Hedley's 20 Mile Creek, well into the depth of Windy Canyon, we came upon it unexpectedly.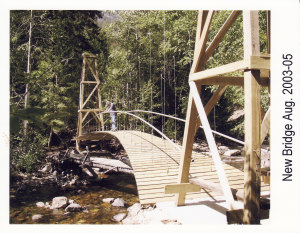 Initially we thought maybe it was a mirage, or at least a trick of our imagination. How could there be an elegant, truly lovely suspension bridge here in this rugged mountain wilderness?
It was 2003. Linda and I were still living in Abbotsford at the time and came to Hedley only on occasional weekends. No one in Hedley had mentioned the existence of a bridge here, let alone a fine one like this. In the past, almost 30 years ago, I had made many treks along this trail while working with young offenders for the One Way Adventure Foundation. The only means of crossing the creek here at that time was an unstable walkway nailed to a log. It had disintegrated at the far end and we had needed to jump to reach land. It never occurred to me that one day some creative genius would decide to build a magnificent suspension bridge at this crossing.
On this day Linda and I stood quietly for a long moment, transfixed. Why would anyone build a bridge here, we wondered. A place where only committed outdoors enthusiasts ever ventured? This is the question I put to Ted Thompson, Hedley's most famous (and only) bridge builder. He moved to Hedley from Vancouver Island in 1998 and built the bridge in 2003.
"I was a retired home builder," he told me. "At that time I was only 70 and I still had energy. I was looking for something to do. In the back of my mind I'd long had a desire to build a bridge."
His father had left the family when Ted was only 8. "I became the man of the house," he said. "If something needed doing, like bringing in sawdust for the stove, or cutting the grass, I did it." Apparently this early experience instilled in him a belief that he could handle difficult projects.
"Did anyone help you?" I asked.
"Yes," he replied. "At the time there was a Buddhist monk living in a cave about 5 or 6 crossings farther along the creek. Some Vietnamese Buddhists came to visit him and when they saw what I had started, they wanted to help. They had emigrated from Ho Chi Minh City some years ago and were now mushroom farmers in Langley."
Ted told me that to transport materials, he bought a riding lawn mower and had a hitch put on it. Pulling a small trailer, he painstakingly hauled in planks, cables, posts, gravel, and whatever supplies were required. When the motor on the tractor gave out, the Vietnamese paid for a new one. They also provided funds for some of the wood and other materials. Because they worked in Langley during the week, they could help only on weekends.
"I designed the bridge to have a curve," he said. "That was to take out the sway. It was 65 feet long and took a few months to build."
The trail to the bridge had deteriorated in some places so Ted and the Vietnamese devoted many hours to it as well. He personally built some of the rock walls that still exist. It was his plan to also build a bridge over the second crossing.
Unfortunately, not many people, even those living in Hedley, ever saw the bridge. In June, 2004 high water in the creek damaged the approach at the far end. Then, in August, 2004, the bridge was completely shattered by a massive rock slide.
No one volunteered to rebuild it but Ted and several men from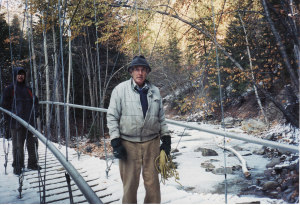 Hedley did drag a large tree over the creek, with the help of a come-along jack. Using the tree as a platform, they built a simple 80 foot long walkway on it.
It seems that fate did not want a bridge in this location though. The second bridge was soon destroyed by a torrent of high water.
At age 80, Ted has no ambition to build a third bridge. His mind is still alert though and his body is lean and fit. Now he's working on another challenging project which he says could be of greater importance than his ill-fated bridges. In the meantime, although Ted's magnificent suspension bridge no longer exists, the memory of it continues to be a unique gift to the people of Hedley.