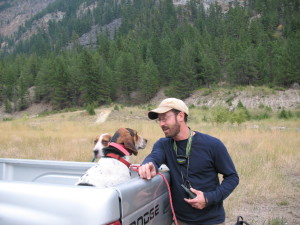 The two high spirited hounds were in the box of Travis Barck's pickup truck, parked on the former tailings pond that lies alongside Hedley's 20 Mile Creek. Linda and I saw them immediately when we turned a corner and entered the spacious open area. Howling, wagging their tails, bounding around excitedly in the box, they demanded to be let out so they could run. Travis was exercising immense patience as he attempted to calm one of the dogs long enough to put on a leash.
Linda and I observed for a few minutes, particularly intrigued by this scene because we were familiar with the events that predated it. It's a story that possibly only those who regularly walk the trail along 20 Mile creek are aware of.
Zak, a rescue dog, is new to the family. Travis and his partner Angelique had picked him up in Kelowna this past May. Not long after bringing him home, Angelique brought both dogs to this field. Confident a solid bond had already developed between her and Zak, she let him and Rocky off the leash. "They ran with complete abandon, burning off a lot of energy," she said later. "When it was time to go, Rocky came but Zak stayed out of my reach."
For Angelique and Travis, this initiated a two week lesson in patience, perseverance, and acts of thoughtfulness toward a frightened dog. Having been abused, he was unable to trust any human.
It's a wilderness area , at times frequented by coyotes, bears and occasionally a cougar. They returned to the field each day and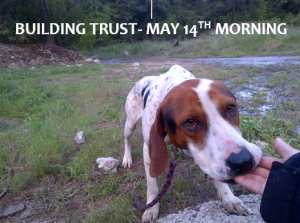 usually saw Zak. Sometimes they sat quietly for hours, wanting him to be comfortable with their presence. It encouraged them that he stayed in the area and played with Rocky. They prepared a comfortable bed for him with a jacket and a blanket in a covered shelter. Each day he ate the food they left.
In response to calls from several individuals who spotted Zak on walks along the creek, Angelique and Travis began posting messages on trees. They reported on any progress in winning his confidence, and also asked people not to try to get close to him. They didn't want Zak to become anxious and leave the area.
To tempt Zak, they purchased a supply of pepperoni at Doug's Homestead. Leaving the field the next day, Angelique began breaking off small chunks of the sausage and scattering them on the trail behind her. She fervently hoped Zak would accept the bait and follow. He found the pepperoni irresistible and ate each piece. When they emerged from the treed area and came to within about 100 meters of her home, Angelique thought victory might be at hand. However, finding himself on pavement and in the midst of houses, he grew uneasy and turned around. The open field, in spite of its dangers, apparently felt safer than civilization. Less resolute individuals might have despaired, but Travis and Angelique were committed.
They continued the daily visits and Zak slowly became accustomed to their regular presence. He began drawing closer, trusting them a little more each day. One evening Angelique was able to put a leash on him and he accompanied her willingly.
"He became anxious when we left the treed area behind and entered the town," she said. "I picked him up and skirted around the far side of the buildings, close to the base of the mountain. He accepted this and we arrived at home with no incidents."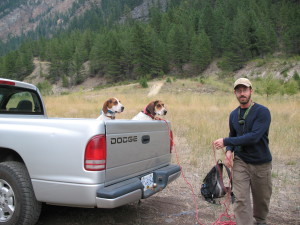 Surrounded by towering green mountains, we observed Travis now as he slipped the leash around Rocky's neck. It surprised us when he said, "Things have changed a lot. Zak has become eager to please. When we call him, he responds. It's Rocky who needs the leash now."