Although there were already 4 hotels in Hedley very early in the twentieth century, there was evidently sufficient business to warrant the construction of two more. In the summer of 1905 John Jackson built the New Zealand. For the most part the reasoning behind the names of the other hotels in Hedley can be understood. I have seen no explanation as to why a hotel in Hedley would be named the New Zealand. For the investors it proved to be a short-lived venture. In the early morning hours of November 6, 1911 it burned down.
In the fall of 1905 John Lind and the Peterson brothers leased a building from G.H. Sproule. After considerable reconstruction, they opened it in 1906 as the Great Northern Hotel.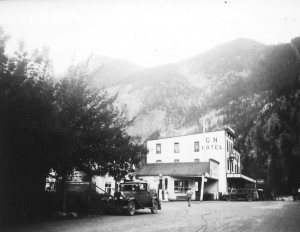 (photo from Hedley Museum collection)
Writing in the April, 1948 British Columbia Historical Quarterly, Harry D. Barnes observed that "Hedley now had six hotels, and for a few years there was business for them all. As was common in mining towns of the day, the hotel bars were kept open 24 hours a day and seven days a week."
The Great Northern was no more fortunate than the other five Hedley hotels. In the winter of 1956-57, it also burned down.
Both the Mascot and Nickle Plate mines had ceased operations by this time, so the town was no longer in need of hotels. Although it seems unusual that three hotels burned down the year after the closing of the Nickle Plate, I have come across no suggestion that the demise of any of the hotels came about by suspicious circumstances. Also, I have come across no reports of injuries or deaths as a result of these fires.
With the closing of the mines and the burning of the hotels, Hedley lost its excitement and swagger, and many of its inhabitants. It became a town that attracted not seekers of wealth, but seekers of a quiet life away from the bustle and noise of city life.