When Linda and I pulled into the parking lot at Manning Park this past Monday morning, my attention was immediately drawn to a couple of motorcycles. The riders were chatting with a third individual, obviously also a bike enthusiast.
The two bikes interested me in part because they gleamed, as though they had just been taken out of a showroom. Of greater interest was that one had two wheels in front, something I don't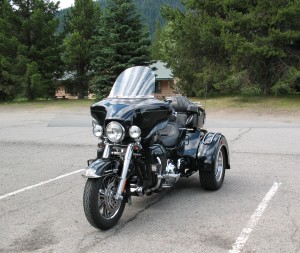 recall seeing previously. The other was a Harley with two wheels in the rear.
While I was looking with great fascination and admiration at the first one, the owner came over and we talked a few minutes.
Bob told me the bike was made by Bombardier, with some custom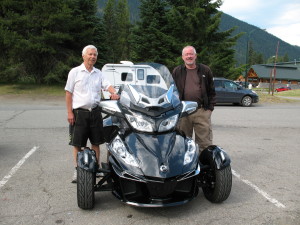 items. "The Bombardier suspension system gives it great stability," he said, "I like the three wheel design. My left hip doesn't have the strength anymore to support a two wheel bike." He obviously felt pride in the machine's performance capacity, but he gave no indication of wanting to boast.
"It's obviously in great shape," I observed. "Is it be pretty new?"
"I bought it three months ago," he answered.
I have no inner compulsion to own such a bike but I did have a need to know what an impressive machine like this would cost. "About $30,000" he said with just the slightest reticence. Maybe a few people have expressed surprise he paid that much for a bike. A decent car can be bought for that kind of money. I wasn't surprised though. It is a very special bike.
I was now permitting my curiosity free reign. "Does this fall into the category of what we call a mid-life crises?" I asked.
He smiled a little and said, "It's probably more of a senior mid-life crises." I had noticed that his neatly trimmed beard did appear to be greying somewhat.
They were from Chilliwack on their way to Princeton on a day ride. Just two senior boys who apparently had been financially prudent when they were younger. They'd had the smarts to set aside something so that now they were able to afford this expensive item on their bucket list. It's pretty awesome that they have the health and also the chutzpah to do what a lot of us just dream about.
Bob, for me seeing those two intriguing motorcycles and talking with you certainly made it a memorable encounter. In retrospect, I realize now I should have asked a few more questions. But maybe there is enough here so the example of you and your friend will inspire some of us to risk more and live our dreams.