July 12. It's 11:05 in sunny downtown Hedley. 31 degrees on the front walkway, which is in the shade.
At about 8 a.m. Linda and I picked Saskatoons for breakfast. The air was still pleasantly cool when we sat on the side deck having Cheerios topped with slices of banana and Saskatoons. Usually breakfast consists of oatmeal with fruit, but now we choose not to warm the house with cooking.
We feel fortunate in being able to harvest the berries. Angelique bought this lot, which is directly across the street from her home, several years ago. The historic St. John's church is on this site. Being interested in history, she commissioned our local historian, Jennifer Douglass, to research its past. Much of the lot is used for gardening and I have a pumpkin plant and about 12 potato plants growing on her huglebeet. Last year my pumpkin growing experiment there produced plenty of vines but only 2 pumpkins.
In spite of the Hedley heat, the two Cleopoatras and Miss Lonely Hearts enter the laying box faithfully virtually every morning. I stay away from their little domain until about 9:30 am. If they hear me while they are in the box, they abandon the laying because they think I'm there to give them their treat of dry oatmeal.
The girls are as seriously addicted to the oatmeal as an addict to heroin. The Cleopatras lay first, and while they are in the box, Lonely Hearts stands inside the gate of their fence, insistently calling for me to bring the treat. Then she goes into the box and the Cleopatras begin the vociferous pleading. Because Lonely Hearts is a slow layer, they become quite impatient. Although they have only small mouths, their volume is incredible. If we want to hear the computer, we have to close the rear windows.
Our small garden is doing well. We've finished eating the row of radishes. Lately it's been bokchoy cabbage, spinach, beet leaves, arugula, kale, etc. Linda uses the produce in salads. I frequently snatch a leaf while working on an outdoor project. Marauding cabbage moths are a minor plague this year. Our neighbour Kim said moths and their dog Dixie have destroyed about 80% of their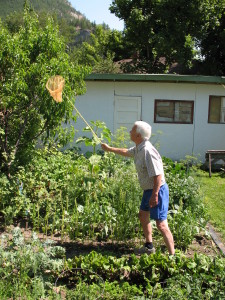 garden. Last year I found a butterfly net with a long handle at the Princeton Dollar Store to snare the moths. My technique is improving and in spite of their clever evasive tactics, I'm averaging about a dozen kills per day. Of course, within 10 minutes of clearing the garden of them, another squadron swoops over the fence on either side and the destruction of plants continues almost without pause. Linda finds considerable humour in my wild leaping around and waving of the net. Fortunately as yet there is no "Moth Rights Society" here.
Due to the heat, Linda and I have been leaving for our walk at about 9pm. By this time the No See'ims are on the prowl. They must fast all day because they are ravenous. Currently we are experimenting with brown Listerine, rubbed on all exposed parts of the body. It does make a difference for about an hour. If we plan to stay out longer, we'll have to carry the bottle with us.
I just looked at the thermometer. 37 degrees. A hot day in Hedley. It's a good time to go to 20 Mile Creek and dangle our feet in the water.