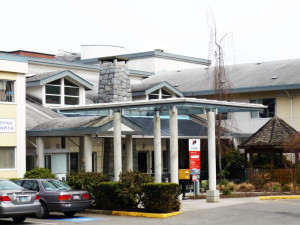 When Linda and I entered East 1 at Menno Hospital in Abbotsford this past Tuesday, Eagan and his wife Mary pulled up alongside us. Mary was pushing him in his wheelchair.
"Are you going to pray for us?" he asked in his soft voice. It seemed an unusual question, but I said "sure, I' ll pray for you." However, in the midst of nurses and care aides chatter, I had not understood him correctly. Linda informed me that he'd asked if I was going to play for them. Although I'm a very basic plunker, I had played piano for them many times during the 6 years my Dad was a resident there.
While I played some of the old tunes like "Red River Valley," "Home on the Range," "I'll Give you a Daisy a Day" and "The Wabash Cannon Ball", Linda visited with Hazel. Hazel has been in care at Menno for a number of years.
After 20 minutes I switched to hymns. As in the past, 91 year old John Boersma joined us with his pleasant, very robust voice. Linda had advised me beforehand that she did not plan to sing, but I was pleased that she had a change of mind, possibly thinking she couldn't leave the singing just to John. Many of the residents, all in wheelchairs and most of them white haired, were at their various tables waiting for the green clad kitchen staff to arrive with lunch. Linda told me later that quite a few had been singing or tapping their fingers. John called me to the sound system mike and suggested I ask for God's blessing on the food. I was happy to do this.
The food had not yet arrived so we visited briefly with as many residents as possible. I stopped at Ilya's table but couldn't be certain I knew who she was, even though we had talked many times in the past. Inevitably I had found her asleep in her chair, appearing ready to pass away. This day she was alert, cheerful and smiling. A little later Linda saw her bent over as usual, sleeping, but we' d had our few minutes together.
A visitor came and said Susie wanted us to come and talk with her. She was in her wheelchair, facing away from us. I noticed that she was observing us in a round mirror she held in both hands. We learned that she is 91 and had come to Canada with her parents from Russia when she was 5. A pleasant lady with a surprisingly young face.
After several other brief visits, we made the trek down the hall to see Mrs. Dosanjh. Mr. Dosanjh was in the room and I greeted him in Punjabi. When we drew near to her bed, we realized that this once vibrant woman with a clear, strong voice no longer recognized us. I looked at Mr. Dosanjh and he lifted his hands in a gesture of sadness and futility.
We left Menno Hospital, once again reminded that it's a blessing to be able to walk, to live in our own home, and to have each other. We were also again reminded of the solid character of these people. In spite of their circumstances, very few complain. Some voice their thanks to God for the wonderful life they have had. They seem to have decided to squeeze meaning and joy out of whatever days or years they will be given. In their outlook and attitude, they are mentors to us. We feel deeply privileged to know count them as friends.