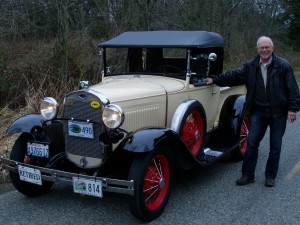 It isn't likely you will hear Bill Day talk about his MA in Adult Education, his years as President of Douglas College, the Order of Canada Award he received, or his service as a Citizenship Judge.  After visiting with him and his partner Lynn Wells for an hour, I came away with the distinct impression that at age 80, he's just too busy and goal oriented to focus on past accomplishments.
From the beginning, he received very little without effort on his part. "We were depression babies," he says.  "Things were ok until my alcoholic father was fired from his position as a prof at UBC. The next 5 years were terrible. We were hungry a lot.  I remember card boarding my shoes. Work was scarce in those days so we considered it a stroke of good fortunate when my mother was hired by Finning Tractor. Her pay wasn't great but at least the family had a steady income and stability."
Necessity made it essential for him to be proactive and creative. "To pay my camp fees at YMCA's Camp Elphinstone," he remembers, "I cleaned out-houses.  It was something no one else wanted to do. I was my own boss. I liked it. I learned that if you do work others don't want to do, you get respect."
He developed the habit of doing whatever it takes. To pay for his UBC tuition, he worked at the paper mill at Ocean Falls. "I learned on the job and became a millwright," he says. "I loved the work and I loved Ocean Falls.  It was there that I started teaching English to immigrant men in the evening in the bunkhouse." Helping those men put him onto a path he was to walk on the rest of his working life.
One day his foreman came to him and said "Bill, I've been authorized to offer you a job in administration. However, I don't think you should accept it. In a few years you would be bored.  My advice is go back to school and train for a career in teaching. You have a gift for it."